UK Student Accommodation Rental Growth
PBSA Rental Growth
National accommodation shortages have been well reported this year and therefore it's of no surprise that rents across the sector have been continuing to rise. 
Whilst rental growth at a national level has been a mainstay of the student accommodation sector for a number of years, the difference this year is in the quantum. 
At a national level, the average per person per week (pppw) cost of PBSA grew by double digits, rising by 10.1% on a like-for-like basis.
This represents a significant uplift compared to the historical average when 2-3% was more realistic. However, this national average hides some significant variations between locations.
Highlighting this point is Glasgow, where rents have grown by >20% year-on-year. At the other end of the spectrum, PBSA in Coventry has seen rents on a like-for-like basis grow by just 1.4%.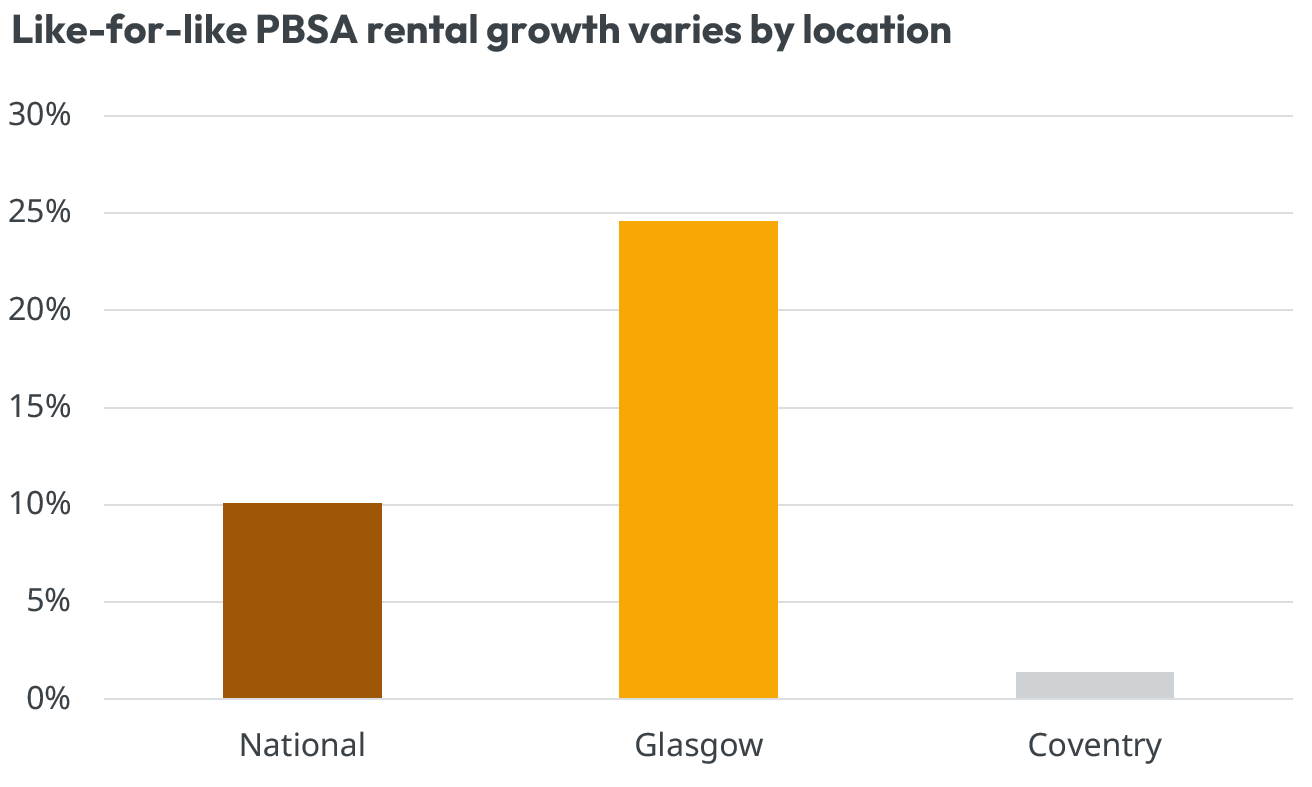 Source: StuRents
As has been the case in previous years, rental growth in the HMO sector has been even stronger. HMOs saw rents rise by 13.1% in 2023-24 and early indications suggest similar growth could be on the cards for the 2024-25 season. 
Whilst national and even city-level trends are useful, the distribution of rental growth can vary between schemes, even in the same location. 
StuRents analysed rental growth at a residence level in Coventry and found two schemes where their performance varied widely. One reported rental growth of just over 10% year-on-year, whilst another saw rents decline by 6.2%. This insight highlights the importance of granular data and not relying on broad trends, particularly when appraising an individual location or scheme. 
In our recent Annual Webinar, we posed a number of questions, including one on rental growth expectations. The outcome was clear, most are expecting increases above the historical average for 2024-25, with the largest proportion (60.9%) anticipating growth of between 5.0%-9.9% and 9.9% answering 10.0%-14.9%. 
Construction Costs
A key factor in driving rents is the delivery of new supply. In the current cost environment, the ability of developers and investors to bring more affordable accommodation to market is hindered. Highlighting this point is construction costs. Whilst they have plateaued recently, they remain at historically high levels. In addition to this, the cost of debt is further compounding the problem.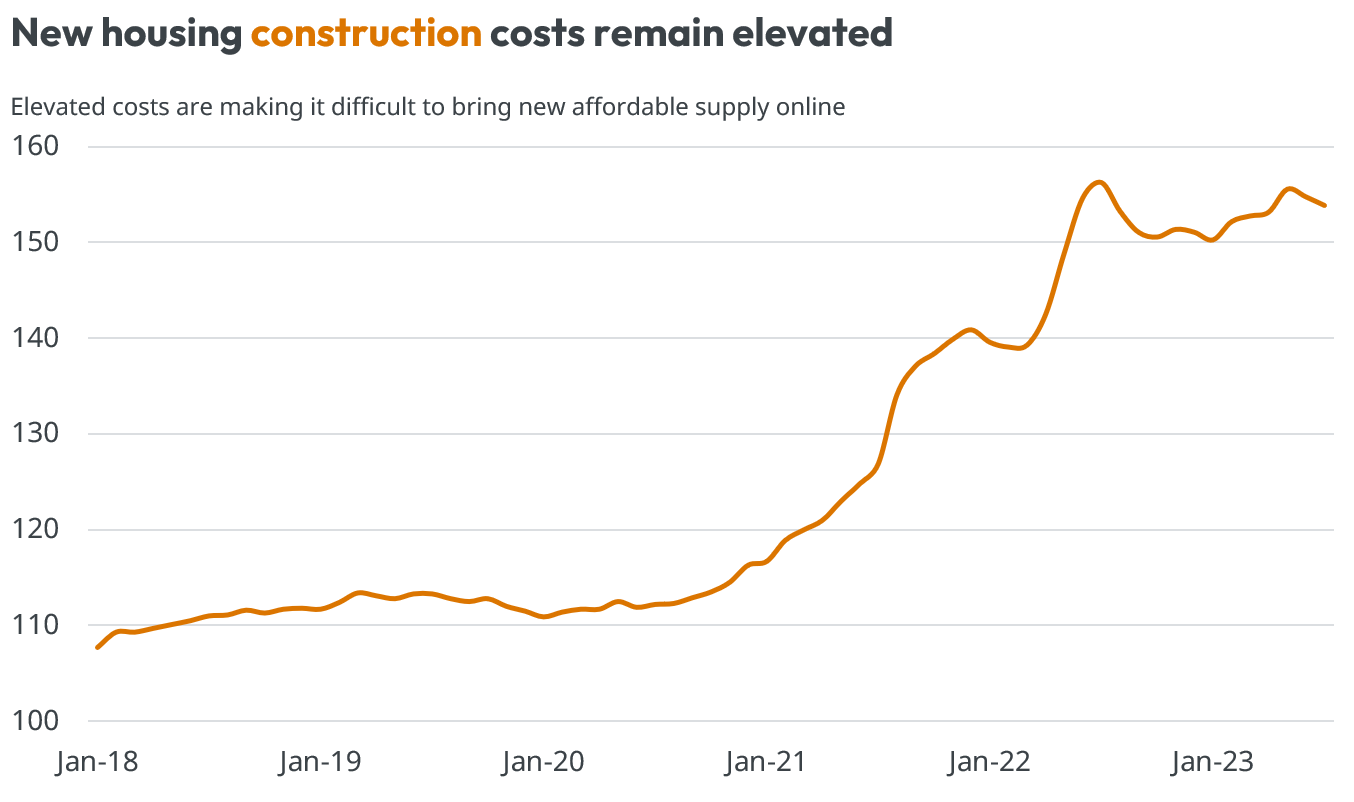 Source: ONS
With more affordable housing not being delivered and demand continuing to outstrip supply, rents are likely to continue to rise. 
Whilst the topic of affordability remains a key concern to all stakeholders, the question remains - at what point does accommodation become unaffordable, so much so that it deters future demand altogether? 
However, this is an extremely nuanced question, with affordability meaning something different to everyone. For example, given the price sensitivity of domestic students relative to their international counterparts, the impact on a particular town or city will vary depending on the demand profile in that area. Equally, as has been the case in Leicester, this demand profile is likely to change over time. 
To maintain relevance in the student market, stakeholders must ensure the product on offer is equally matched by relevant demand. The risk to the sector is that as prices continue to rise, it could find itself pricing itself out of the reach of most students. 
The above insights have been taken from our 2023 Annual Report. 
About StuRents Group
StuRents Group operates StuRents.com, the UK's leading student accommodation marketplace, listing 750,000+ rooms across 100 university towns and cities.
Concurrent is part of StuRents Group and powers the full rental journey, helping property managers find tenants faster, execute tenancies seamlessly, automate rent reconciliation and report on critical financial and operational data.
StuRents Intelligence, our research division, provides unbiased, proprietary insights, leveraged from StuRents.com and Concurrent.co.uk to property managers, investors, developers and lenders industry-wide.
Explore Richard Ward's articles